Welcome to Grand Junction!
As a full service real estate office, we are qualified in guiding you with buying, selling, renting a home, an apartment or commercial property. Our goal is to findthe real estate you want at a price you can afford or help you to sell your real estate at the right price. We believe in using our experience in finance, contracts, negotiating, and marketing to your best advantage.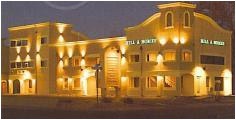 Combining our extensive knowledge of Grand Junction and Mesa County will produce results for you. Our commitment to our clients: we want to help you achieve your dreams by finding the home or other real estate you are looking for in our area.
Please take a few minutes to look through our site. Be sure to take advantage of the many features offered to you. From the free reports to information about the community and local schools, We would like to share with you invaluable information about buying and selling your home. If there is any way that we can assist you further, please contact us. Thank you for visiting our site, We hope to be hearing from you soon.
---
 Our membership in the Navica Multiple Listing Service gives you internet access to all properties for sale region wide, including Grand Junction, Mesa County and more...
We can sell you any property for sale in the Grand Junction area, regardless of who the listing agent is. Use this website to search all listed Homes and Properties for sale in the Grand Junction, CO area.
If you're looking for real estate, homes or property in the Grand Junction, CO, 81501 area, we can help you choose the right home or property for your needs and will guide you towards making an informed real estate decision in the Grand Junction market. We pride ourselves in being able to give all our clients important local information based on years of living and enjoying all the Grand Junction, CO area has to offer.
If you are a seller, we can help price and put your Grand Junction, CO home or property on the market for a quick sale. If you'd like to find out the value of your Grand Junction, CO home or property, go to our "Your Home Value" page and submit a CMA request. We will research the value of your home or property for you. This is a free service provided by Hill & Homes Real Estate.
This site is designed to help you make the important decisions needed to purchase or sell real estate, homes, or property in Grand Junction, CO. Bookmark it for future reference and feel free to call or e-mail us for all of your real estate needs.
The only thing better than visiting Grand Junction, CO,
... is Living Here!